The Baby Moses Project was established to address an alarming increase in newborns being abandoned in perilous places. The mission of the project is to publicize a confidential, and safe alternative to newborn abandonment.

We are dedicated to providing a safe shelter for the youngest and most vulnerable members of our society. With the cooperation and assistance of compassionate individuals, we feel that this project will undoubtedly lead to the successful saving of numerous lives. We are confident that this effort, partnered with those of other states and organizations, will result in a national recognition of this
tragic problem.

Safe Haven Designation

Why have we chosen the name, "The Baby Moses Project"? Because, in addition to being placed in a basket, Moses was also carefully watched over by an anonymous protector until he was safely placed in the arms of an in a person who could provide the love and care necessary for life. Similarly, those involved with this project and the implementation of abandonment legislation, want to provide a protector for newborns, and anonymity for desperate mothers who choose a responsible alternative to abandonment.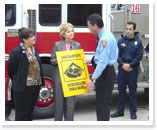 State Representative Geanie Morrison with the San Antonio Fire Department.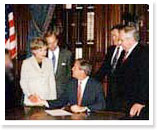 Former Governor, George W. Bush signs the country's first Baby Moses legislation, HB 3423 into law
- June 3, 1999